Thursday, 12 April 2012 11:55
Last Updated on Thursday, 12 April 2012 16:27
Pokémon fans have been waiting for this moment all week. Japanese magazine CoroCoro has finally leaked, and we now have a few very interesting details to do with up-coming main series Pokémon games Pokémon Black 2, and Pokémon White 2. Read on to find out more!
The first scan of CoroCoro (pictured above), shows us the two new playable characters along with our new rival, a new Gym Leader, and a strange Pokémon researcher. Starting from the left we have Achroma the Pokémon researcher who is looking into Pokémon's abilities. Next we have the new Poison type Gym Leader called Homika, she is the first Poison type Gym Leader since the leaders of the Fuchsia City Gym in Kanto. It is said that Homika's Gym will be part of a music club (hence her having a guitar), so it is sure to be an interesting Gym. Next to Homika we have our somewhat grumpy looking rival, and next to him we have our new playable characters. It is also confirmed that players won't start out in Nuvema Town like in Black and White, but players will start out in a new city going under the name of Hiougi City. This will mark the first time players set off from a city and not a small town. Hiougi City is said to include a Pokémon Center, a trainer school, and interestingly enough an Aquarium where players will have Water-Type Pokémon swimming above their head.
It has been confirmed the events of Pokémon Black 2, and Pokémon White 2 take place two years after the events of Pokémon Black, and Pokémon White, because of this a number of things have changed. Unova has mostly been frozen over with ice, and a few routes cannot be used because of it, while a few have changed. A number of new towns (and cities if Hiougi is anything to go by), have also been built in the short space of time.
The second CoroCoro scan shows off another new Gym Leader. This time we have a Water-Type Gym Leader who goes by the name of Shizui.
The last scan details changes to the Unova Pokédex. The dex has been given a shake-up and will now include a total of 300 Pokémon both new and old. From the scan we know Psyduck, Eevee, Arcanine, Lapras, Riolu, Tyranitar, and Metagross are included. We also know Mantine will be included from the fact it will be in the Aquarium in Hiougi City. Some of the Pokémon mentioned have been given dex numbers so we can see just how much of a shake-up the dex has actually been given. Riolu will be number 033, Psyduck number 026, and Metagross number 254.
Finally, it has also been confirmed that Black Kyurem will know the special move of Freeze Shock, while White Kyurem will know the special move Ice Burn.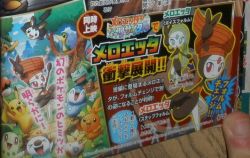 In the hype for Black & White 2 poor Meloetta has once again been left out despite the fact this months CoroCoro officially revealed the Pokémon's Pirouette Forme. No details about the forme were given, but nonetheless it is still worth noting.
Pokémon Black 2, and Pokémon White 2 have also been confirmed to have a Japanese release date of June 23rd. That means over the coming weeks we should see details to do with the games come quite quickly. Also worth remembering that Japanese TV show Pokémon Smash is meant to have details of its own to do with the games along with a trailer. The details will likely be the same as CoroCoro, but it is worth keeping an eye on it regardless.