Wednesday, 09 May 2012 22:29
Last Updated on Friday, 11 May 2012 21:59
The Darkrai WiFi Event expected to be released today was, in fact, released yesterday, and today we were given a bit more information about this event.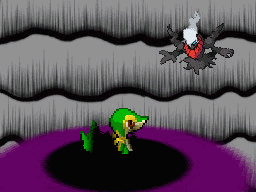 We'll start with the Darkrai itself. This is the same Darkrai that was released months prior in Japan. It was to coincide with the TCG's Dark Explorers set, which continues to bring older Pokemon into the Gen V TCG. The Darkrai itself is Level 50, and holds an Enigma Berry, which cannot be legally obtained outside of the Dream World. Its attack set is Darkrai's signature move, Dark Void, as well as Omnious Wind, Faint Attack, and, of course, Nightmare. This Darkrai also comes with the Bad Dreams ability, for even more restless, draining dreams.
This event started yesterday, May 8, and will continue until June 10, 2012, so be sure to pick yours up at the nearest opportunity!